On October 21st, researchers from the Cognitive Development Lab presented at the New England Psychological Association (NEPA) in Boston. Current Yellow lab members Meghana Kandlur, Joanna Paul, Praise Owoyemi, and Jamie Hom presented their work entitled "Partition Dependence in Financial Aid Allocations".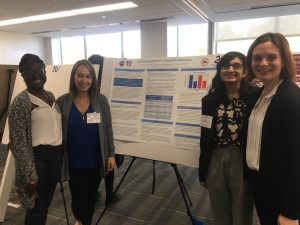 This research was done in collaboration with Elizabeth Shackney ('17) with support from Faculty members Professor Hilary Barth and Post-doc Chenmu (Julia) Xing, and former lab coordinator Alexandra Zax.
Congratulations to the students for their impressive work!