This spring, researchers in the Blue and Yellow Labs have participated in community events around Middletown. In March, members of the Blue Lab shared games from our Preschool Math Curriculum with families at Preschool Math Night, hosted by the Cromwell Early Childhood/School Readiness Council. We loved playing Bead Tower, Fish Friends, Math Garage, and Math Bus with rising kindergarten students from the area! Later that month, researchers from both labs attended Middletown Easter Candy Hunt, where kids were hopping with excitement and energy! In April, CDL members participated in Daffodil Day at the Wadsworth Mansion. We chatted with families from all over Connecticut and enjoyed one of the first warm, sunny days this spring. Sharing our research and findings with the Middletown community is one of the best parts of the work that we do!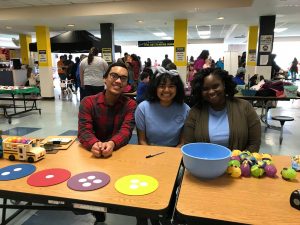 Blue Lab members Jordan Legaspi '19, Sifana Sohail '18, and Joy Adedokun '19 enjoy the Middletown Easter Candy Hunt.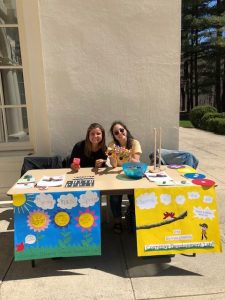 Yellow Lab members Amanda Fiorentino '20 and Jenny Chelmow '19 display some of the Blue Lab's math games at Daffodil Day at Wadsworth Mansion.