Many congratulations to our senior lab members who graduated just a few weeks ago! We are so proud of their hard work and growth & they will be dearly missed. Congratulations to the class of 2019!
Graduating seniors from the Blue Lab: Kaila Scott '19 & Rebecca Houston-Reed '19
Graduating Seniors from the Yellow Lab: Kerry Brew MA '19, Jenny Chelmow '19 & Taylar Clark '19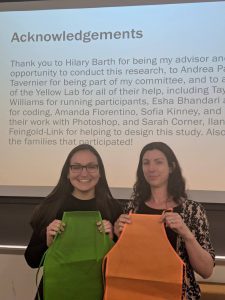 A special congratulations to Kerry Brew for defending her Master's thesis on minimal in-group bias in children. Congratulations on a job well done, Kerry!
We are also very excited to congratulate postdoc Chenmu (Julia) Xing on her tenure-track position at Minot State University! Julia received her PhD at Teacher's College before coming to Wesleyan for her postdoc with Dr. Hilary Barth and Dr. Andrea Patalano. Dr. Xing is a cognitive and educational psychologist interested in mathematical and numerical cognition and development, and educational applications in this domain.