On April 26th Wesleyan University's Psychology Department held its annual poster session. Over 100 undergraduates presented their work from the past year! The Cognitive Development Labs were represented by nine lab members and presented a total of 7 posters.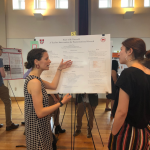 Blue Lab member Natalie May B.A. '17, M.A. '18 presents "Start With Yourself: A Teacher Intervention for Socioemotional Growth"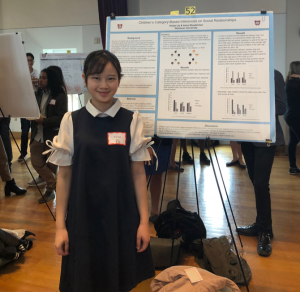 Blue Lab member Vivian Liu '18 presents "Children's Use of Social Category Information in Predicting Social Relationships"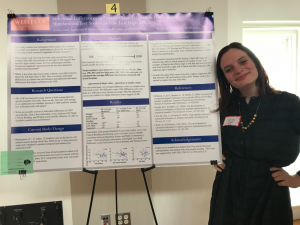 Yellow Lab member Joanna Paul '18 presents "Individual Differences in Number Line Estimation Performance: Standardized Test Scores and the Left Digit Effect"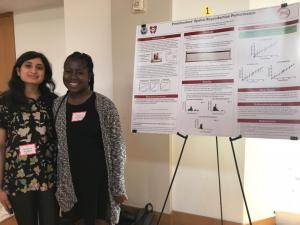 Yellow Lab members Meghana Kandlur '18 and Praise Owoyemi '18 present their poster "Preschoolers' Spatial Reproduction Performance"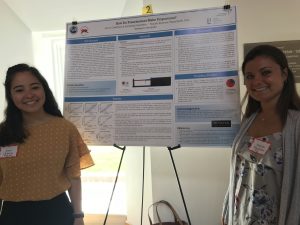 Yellow Lab members Jenny Chelmow '19 and Amanda Fiorentino '20 present their poster "How Do Preschoolers Make Proportions?"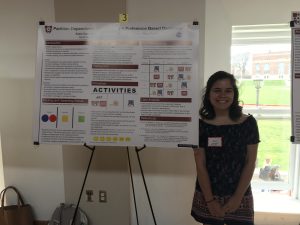 Yellow Lab member Katie Vasquez '20 presents "Partition Dependence and Children's Performance Based Decisions"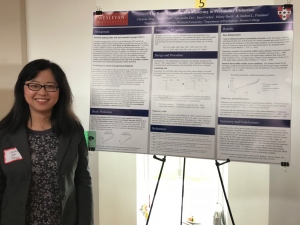 Yellow Lab member Chenmu (Julia) Xing (Postdoctoral Fellow) presents "The Role of Context and Numeracy in Probability Distortion"
A big thank you to all of research assistants for their hard work this year and congratulations to those graduating!